Buyout Book by Rick Rickertsen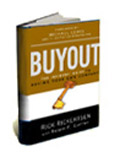 It's your future take charge.

If you are a manager who has dreamed of running your own company, this book will provide the inspiration and know-how you need to lead a successful management buyout. For the first time, an experienced insider guides you through the hidden and intricate passages of the buyout world, from the dream to the deal to the exit.

Through the colorful stories of six managers – and drawing upon his experience from over fifty other deals – Rick Rickertsen offers deep insights into the personal and professional challenges, and exhilaration, of the buyout process. He takes you on the roller coaster ride of putting together a deal and provides cautionary tales about the mistakes that can send you into "deal hell." His book also gives you the practical tools necessary to identify, analyze, negotiate, structure, conduct diligence, close a deal and exit (and buy your yacht). A detailed appendix includes samples of key documents and lists of buyout firms and banks.

If you've ever dreamed of seizing your destiny and buying out your own company (or another), this book will help you and your management team realize your dream.