Sell Your Business Your Way by Rick Rickertsen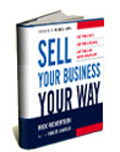 A comprehensive guide to getting top dollar for your life's work—and feeling good about it.

Whether you built it from the ground up or acquired it and then made it your own, your company is a reflection of your vision, hard work, business savvy, and resiliency. Now that you're thinking of walking away, you'll need all those qualities to see you through the deal.

But you'll also need some frank advice and real strategy to knowing if you're doing the right thing—and to maximize your profit. Sell Your Business Your Way walks you through the entire selling process. Rick Rickertsen presents the many different ways to structure and finance a sale, and gives you step-by-step guidance to help you:

Decide what your goals are, and if it's really time to get out.
Prepare for the sale as far in advance as possible.
Separate business from family, and do what's best for both.
Assemble a team of advisers.
Determine how much your business is worth.
Approach and attract the right buyers.
Structure and close the deal.

And with Rickertsen's sage investing and tax tips, you'll learn how to make the most of the payoff. There is also crucial information for family owned businesses, of which only about one-third will make a successful ownership transition to the next generation.

Sell Your Business Your Way features a treasure trove of sample documents, adaptable forms, and—whether you plan to hire one consultant or dozens—a resource listing of hundreds of business brokers, valuation firms, accountants, investment firms, debt-financing sources, and much more.

Selling your business means navigating new and potentially dangerous territory. With the right information and resources, the journey will be not only safe but also exhilarating—and hugely rewarding.